A Lead Performer! Queen the Plague Emerges!
One Piece Episode 930 Sub Indonesia akhirnya rilis juga. Yang sebelumnya ditunda hanya sampai pada One Piece Episode 929 saja karena alasan Corona. Diceritakan pada episode 930 ini, Luffy, ketika marah oleh Daifugo karena menyerang Hyogoro, kondisi penjara semakin kacau lagi. Luffy melawan para penjaga penjara yang ada di sana. Situasi pun semakin runyam dan Luffy tidak bisa lolos begitu saja dengan mudah setelah membuat kekacauan besar ini. Apalagi kekacauan ini juga akan memunculkan Queen the Plague, salah satu All-Star Kaido.
Selamat menonton One Piece 930 sub Indo secara gratis atau download Full movie HD 720 / 1080 jika tersedia. Situs ini bukan Layar Kaca 21 atau LK21 apalagi IndoXXI, tapi BajakLaut21.com. Kalian bisa request film terbaru maupun movie lama / jadul dan bisa request pembuatan subtitle bahasa indonesia gratis maupun berbayar.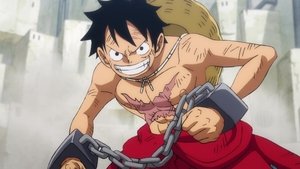 Jun. 28, 2020